Central Aikido is directed and managed by the governance of a General Council composed of the Head Instructor and other instructors, UCM student officers, assigned officer positions and occasional advisors to fill needs to the council. The members of the council are highly dedicated to the advancement of the dojo and it's members, taking as their primary focus and priority to forge and maintain a unity within the dojo through technical standards for all members, a clear direction for growth and a clear pathway for the continuity of our high standards of practice.
Instructors
Thomas Burden – Chief Instructor
Clifford Fuller – Instructor
Officers
President – Tanner Brandes
Vice President – vacant
Treasurer – CJ Simmons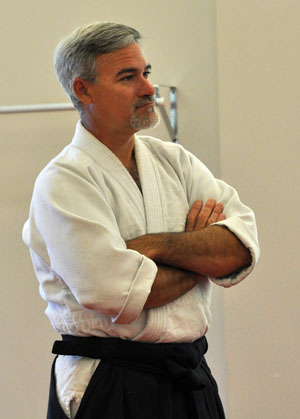 Tom Burden, Chief Instructor & Dojo-cho
Tom Burden Sensei began studying aikido in 1991 under Vic Montgomery Sensei of Midland Ki Society, where he studied for approximately two years. After an extended hiatus he returned to the art and co-founded Central Aikido with Cliff Fuller Sensei. Over the years he has been under the instruction of many sensei including Larry Graham in Kansas City, and Dan Hayes in Omaha. As a founding member Burden Sensei was the President for the first 5 years of the club and has been Dojo-cho since its founding. In his years of training, he has been privileged to have received training from many great instructors in the US Aikido Federation and beyond, and maintains ties to many high level instructors with whom he trains with often.

Aside from Aikido, Burden Sensei also studies and leads zen mediation. Additionally, he studies and teaches Iaido (Muso Jikiden Eishinryu), and studied Jeet Kune Do in his youth.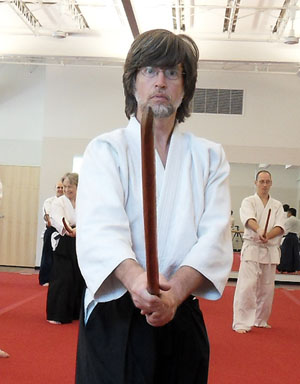 Cliff Fuller, Instructor
ON HIATUS
Fuller Sensei began his training in aikido originally in 1981 under the direction of Linda Lee Vecchio, Shihan. From his start at Aikido of Cleveland, he has since studied aikido at the Midwest Aikido Center in Chicago under Akira Tohei, Shihan, as well as Blue Springs Aikido and Kansas City Aikido School, both in Kansas City Missouri. He is the co-founder of Central Aikido and served as Chief Instructor for the first few years of the dojo. He has close ties and still receives direction from Vecchio Sensei as well as Larry Graham of KC Aikido School. He has additionally studied aikido under a great many exceptional instructors.